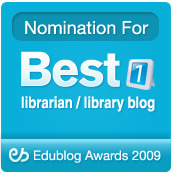 You've gathered the statistics, you've had an active library program, you've served teachers and students consistently well, your usage has increased, and you've publicized what you do, through sharing, videos, newsletters, visibility at meetings and more. You've shared research on the impact of libraries on achievement scores, the importance of staffing, and studies galore.
Yet your library staff or program still gets cut, your budget gets cut, librarian positions are reduced. Frustratingly, this scenario has been playing out around Texas (and around the country). It's dismaying, it's disheartening, and discouraging. We wonder what we could have done better, how much more we could have shared, and how to make an impact.
I've been thinking that perhaps we need to reframe the issue, because to an extent, it's not just about us, it's about them.