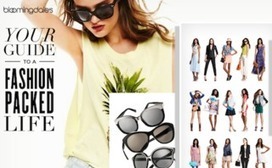 4. Look But Don't Touch?
Visuals are amazing tools to pique interest and sell clothes. As Pinterest's traffic generating reports prove, images are powerful.
However, usability is important too. If a product is featured in a lookbook or other image on a retail site, adding a link back to that specific item can increase conversions. Here, the retailer hasn't linked images to the items below.
Via
Jeff Domansky