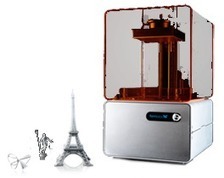 The Form 1 marries high-end stereolithography (SL) technology and a seamless user experience at a price affordable to the professional designer, engineer and maker.
FORM 1 was developed by three graduate students from MIT - Maxim Lobovsky, David Cranor, and Natan Linder.
This drastic cost reduction was achieved by replacing the costly laser system in the existing SL machines with a $10 laser developed by Sony for Blu-ray players.