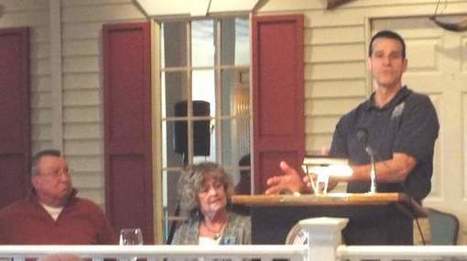 Local orthopedic surgeon Dr. John E. Spieker told federal retirees that acupuncture "is one more tool in the orthopedist's toolkit to treat a problem without resorting to surgery."

He said, "While the effects of acupuncture cannot be completely explained in terms of Western medicine and physiology, the techniques may be appropriate for a wide range of medical conditions, especially musculoskeletal disorders. As an orthopedic surgeon, I commonly see problems that are not amenable to surgical care, and that also do not respond well to traditional conservative treatment measures."

Spieker, who practices at Orthopaedic Associates of Southern Delaware in Lewes, was the luncheon speaker at the January meeting of the Coastal Sussex Chapter 1690 of National Active and Retired Federal Employees held at 1776 Steakhouse near Rehoboth Beach.

The local Coastal Sussex Chapter 1690 is part of NARFE, a national organization that represents federal employees, retirees, and annuitants, promotes their general welfare, and provides advice and advocacy services with respect to their rights and benefits under federal and state retirement laws and regulations. Any federal retirees interested in joining the Coastal Sussex chapter should email Ron or Carol Weber at rjw98@mchsi.com for information.

Spieker explained that acupuncture was developed over 2,000 years ago in ancient China, and the techniques were brought to France in the early 1900s by George Soulie de Morant, a French diplomat/scholar. He said in the United States, there are currently two major schools teaching medical acupuncture to physicians: the Helms program is affiliated with UCLA and Stanford medical schools, and the other major program is affiliated with Harvard Medical School. He said the use of acupuncture in the United States combines 2,500-plus years of traditional Chinese medicine with Western medical knowledge of disease and physiology.
Spieker said acupuncture treatment is very effective in eliminating discomfort and pain resulting from physiological problems. "It doesn't fix the problem itself, but it is effective in releasing neural transmitters in the brain and in resetting the thermostat in the brain that senses discomfort or pain," he said.