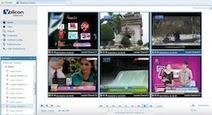 Volicon has released the biggest update yet to its Observer Enterprise video content logging and monitoring system, writes David Fox.
Version 6.0 simplifies critical processes with new loudness-monitoring capabilities, closed-caption support, and transport-stream monitoring and export, and is claimed to also serve as a convenient and versatile platform for additional monitoring applications.
The Observer range captures, stores, and indexes broadcast content from multiple channels, offering users simultaneous 24/7 access to video from their desktop. Configurable alarms monitor video quality and provide early detection of audio and video issues across hundreds of HD channels, facilitating rapid resolution and minimizing downtime. The system also allows broadcasters to manage and compare content assets across multiple channels in a unified interface from any internet connection.
Via
Nicolas Weil