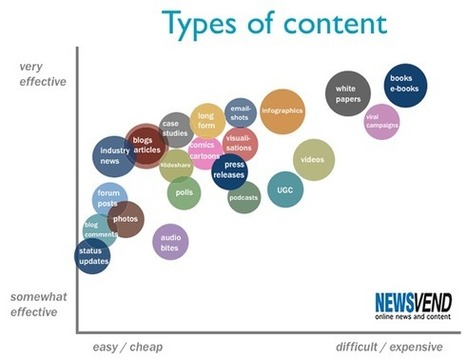 Artikel van Newsvend.com
Content marketing. Maak gebruik van verschillende soorten content én gebruik verschillende kanalen om de content te promoten.
Het stappenplan in dit artikel:
- wees op de hoogte van Google's algo updates, het kan je campagne maken of breken
- stel doelen
- maak gebruik van meerdere soorten content
- zet de content via verschillende (sociale) kanalen uit
Ik voeg er aan toe: meet je acties om te weten welke aanpak het meest oplevert.
"
In reality the effectiveness of a content form really depends how suited it is to your information. Your choices are also going to shaped by resources that are available. Writing a book or even a white paper, whilst generally very effective, is going to some time and therefore is expensive. At the other end of the spectrum you have social media updates and blog comments which are quick and cheap to create and, on their own, have limited effectiveness.
There are some under-utilised types of content, like comics or cartoons, which can get good shares in social media, stick around for a while and are good at picking up inbound links. Slideshare presentations are great at condensing longer Powerpoint presentations or displaying a set of slides in a visually appealing manner.
In terms of value for money, quality blogs and original news feed are a very powerful way to inform and engage with your audience, especially when used in conjunction with newsletters and social media. The 'Freshness Update' was coined to explain the way that Google rewards websites that are continually adding more content. A Google search guru even said that search results were like cookies that come out of the oven – 'best when fresh'.
Infographics are in vogue of course, and are fantastic for allowing people to digest and make sense of larger amounts of data in a fun way. Different types of information are often best conveyed by using particular content forms. So couple creativeness in broadening your topics with a bigger toolbox of content forms to really build your audience.
"