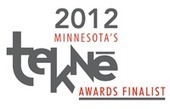 eLumen: A truly academic approach to assesing learning outcomes.
Congratulations to AAEEBL Corporate Affiliate eLumen for winning a Tekne Award. We have been pleased to work with David Shupe and to benefit from his thinking and generositing in sharing with the eportfolio community. (JWB)
"The Tekne Awards recognize those whose leadership and dedication to technological innovation helps demonstrate Minnesota as a global player in technology-based markets," said Margaret Anderson Kelliher, President and CEO of MHTA. "This year's finalists should be extremely proud of their role in helping Minnesota excel."