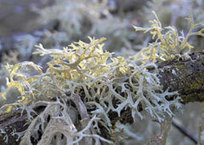 Abundant in the lush hills of northeast India, a variety of plant-like organisms called lichens may hold the key to a potential drug against breast cancer that affects one in 28 women in India, according to a discovery by scientists here.

Attached to rocks and tree trunks and seen on the ground, these dual organisms are made up of a symbiotic association of fungus and alga and are known reservoirs of dyes and drugs.

India is home to more than 2,400 species of lichens - also included in the lower plants category along with mosses and ferns - or almost 16 percent of its global distribution.


Now, a team of five scientists at the Kolkata-based Bose Institute's Division of Molecular Medicine have shown that an extract of the tropical lichen species Parmotrema reticulatum (PRME) can "specifically" halt duplication of cancerous cells and trigger their death without harming normal cells.

Their medicinal properties have been attributed to the active compounds generated as a result of their mutually beneficial relationship, said Nripendranath Mandal, Associate Professor of the Division and leader of the research group involved in the study.

"The 70 percent methanolic extract PRME which we used possesses significant anti-cancer activity against breast cancer cells in the laboratory, that is, in vitro.