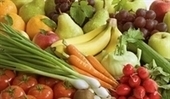 A recent study suggests that a high intake of fruits and vegetables is associated with a lower risk of bladder cancer—but only in women.
The findings come from the Multiethnic Cohort Study, a longitudinal survey that, since 1996, has collected data on diet, lifestyle, and genetic factors from more than 215,000 adults between the ages of 45 and 75 in Hawaii and California and searched for links to cancer incidence. The study cohort includes African-Americans, Japanese-Americans, Latinos, Native Hawaiians, and whites.
Although prospective cohort studies found no relationship, past case-control studies have reported an inverse relationship between the incidence of bladder cancer and the intake of fruits and vegetables.
These studies had been conducted in ethnically homogenous populations, primarily Europeans; therefore, the Multiethnic Cohort Study provided an opportunity to investigate the relationship in an ethnically diverse population.
This analysis drew on data from more than 185,000 participants in the study. Dietary data was collected on self-report questionnaires. Subjects were followed for 12.5 years, during which 581 cases of bladder cancer were recorded.