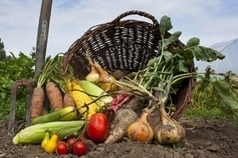 Agricultural and Biofuel News (#Agriculture #News Organic Farming Expands, Contributes to Sustainable Food Security: Despi...
Organic farming is now established in international standards, and 84 countries had implemented organic regulations by 2010, up from 74 countries in 2009. Definitions vary, but according to the International Federation of Organic Agriculture Movements, organic agriculture is a production system that relies on ecological processes, such as waste recycling, rather than the use of synthetic inputs, such as chemical fertilizers and pesticides.
"Although organic agriculture often produces lower yields on land that has recently been farmed conventionally, it can outperform conventional practices—especially in times of drought—when the land has been farmed organically for a longer time," said Reynolds, a researcher with Worldwatch's Food and Agriculture Program. "Conventional agricultural practices often degrade the environment over both the long and short term through soil erosion, excessive water extraction, and biodiversity loss."
Via
Bert Guevara