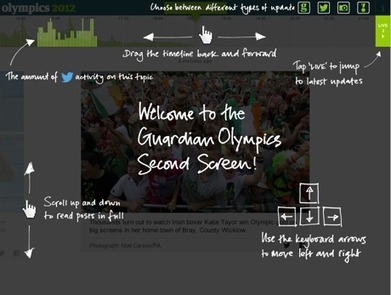 Cómo se hizo la webapp de las olimpiadas del Guardian uk
"Timelines remain one of the most useful visual mechanics to display sequenced information. They also, as we have been discovering, relate very closely to that other "visual mechanic" of our time - the stream, which, thanks to Facebook and Twitter, is emerging one of the pre-dominant, if not the dominant, metaphors for news distribution in the digital era.
So when the opportunity arose to create a "Second Screen" experience for the Olympics, which would have to display the huge variety of Olympics-related news: from blog posts, to tweets, pictures, and other data-based updates (results, medal tables, and the like), we wondered: was there a way to reimagine the timeline such that it enabled a better navigation of this voluminous stream?
"