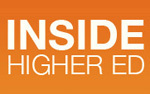 Without arguing for the precise forms that equity might take..., it seems valid to expect TT faculty to interest themselves in these issues, especially on their own campuses. For one thing, we have an obligation to our colleagues — and I use that term in its widest possible sense.
.... Who are we as educators if we concern ourselves with the development of our students but turn a blind eye to the career paths of substantial numbers of our colleagues? And what are students to think about our paeans to social justice when they discover that we don't take care of our own?
.... The ab/use of NTT faculty labor is a major academic issue of our time.... The responsibility to fix the system belongs to all of us, but the role of TT faculty — especially those with tenure ... is, at this juncture, absolutely essential. To refuse to take on this charge is to compromise the claims...on which we have staked our professional lives. Our integrity as both teachers and intellectuals is linked, most decidedly, to our willing participation in the conversation.
[plus lively comments of course]
Author's Bio: Janet Casey is a professor of English at Skidmore College. Previously, she was a non-tenure-track faculty member for 15 years.