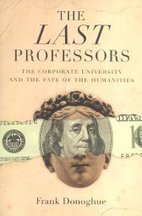 …now showing…last of the profs. still on topic…#academiclabor featuring the #adjunct as Gunga Din,
4 part video interview with Frank Donoghue, author of The Last Professors: The Corporate University and the Fate of the Humanities, Fordham UP, 2008.
Donoghue thinks (2008) it's too late to turn back and that we've already passed the tipping point. Asked at the beginning of the interview above to describelast profs in ten words or less, he replies, "a train wreck with no survivors."
Scott Jaschik, in a 2008 IHE interview with Donoghue, asked what prompted him to write the book and how it relates to tenure, increased reliance on contingent academic labor and, finally, how a tenure track professoriate could be restored.
Donoghue replied, "The tenure-track professoriate will never be restored. Two factors seal its fate. First, the hiring of adjuncts continues to outpace the hiring of tenure-track professors by a rate of three to one. It's silly to think we can reverse the trend toward casualization when, despite a great deal of attention and effort, we can't even slow it down."