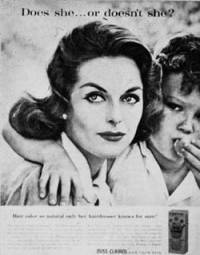 Shirley Polykoff, the pioneering advertising woman who came up with a single double-entendre that changed the face, or rather turned the heads, of American society,
"In an era when hair color is no longer a fiat of nature but a routine fashion choice, it is easy to forget that as recently as the mid-1950's hair coloring was such an exotic exception to a cultural norm that only 7 percent of American women dared dye their hair, mainly actresses, models and other fast women.
Then in 1956 Miss Polykoff invented the ''Does she . . . or doesn't she?'' campaign for a tiny Bristol-Myers division known as Clairol. Almost overnight, the slogan became a national catch phrase, and dyed hair (although never thereafter, she made sure, known that way) went from declasse to de rigueur..."