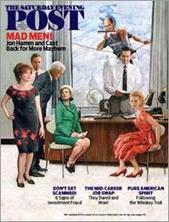 Not Your Father's Norman Rockwell Cover Story - 02/26/2014
"t may look like a Norman Rockwell setting, but the cover story of next week's The Saturday Evening Post is guaranteed to be anything but, as it sets the stage for the final season of AMC's "Mad Men."
Written by "legendary" Hollywood reporter Jeanne Wolf, the cover story focuses on how the cast of the Madison Avenue noir series have grown individually over the course of seven seasons, and why "fans project so much love and hate on their characters."
The issue also pays homage to the "Mad Men" era with a feature on the "new" look of vintage '60s-era art and advertising from the pages of The Saturday Evening Post....."