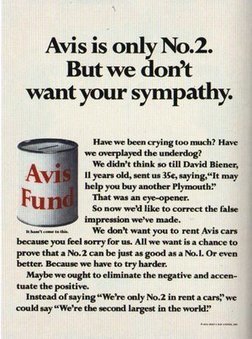 "It's 1962 in America, and the car rental market is pretty simple, Hertz are the leaders in the market by a country mile. Avis was failing, it had only 11% market share and hadn't made a profit in 13 years.
Avis appointed maverick businessman Robert Townsend as CEO, tasking him with turning the company around. One of the first things Townsend did was to call Bill Bernbach at Doyle Dane Bernbach, his plea: "How do we get five dollar's worth of impact for every dollar we spend?"
In answer, Bernbach demanded that they got 90 days to learn about the business, that Avis run every ad without changing a thing, and that they didn't run any advertising until they'd got their actual service up to scratch.
Bernbach put art director Helmut Krone and writer Paula Green on the project, and the team set about finding out as much as they could about Avis and its people..."