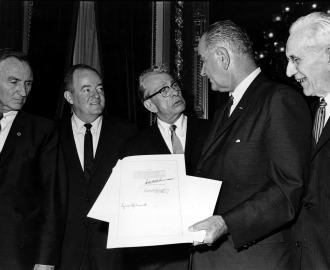 By Andrew Cohen - The Atlantic
Lyndon Johnson was riled up.
The Texas senator hadn't yet announced his candidacy for the presidency, wouldn't announce it until it was too late as it turned out, but there he was, privately campaigning, secretly moving to assure key journalists that he was not the scourge of civil rights they thought he was. As Senate Majority Leader, he had helped pass the 1957 Civil Rights Act, had he not? Breaking through nearly a century of Southern intransigence on civil rights, he had herded the "old bulls" of the Senate, some of them unabashed racists, into passing a federal law that made it easier for blacks to vote.
So there he was, in April 1960, already playing catch up to the aggressive Kennedy machine, on an airplane with a journalist named Howard B. Woods, the editor of a black newspaper called the St. Louis Argus. And Johnson was in full throat. Here's how Robert Caro, in Passage of Power, his masterful new installment of his colossal biographical series on the life and times of Johnson, recounts what happened next: ...