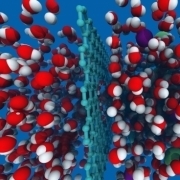 Graphene sheets with precisely controlled pores have potential to purify water more efficiently than existing methods.
Piggybacking on the other article from MIT regarding looking at water shortages differently and trying to waste less of it (because goodness knows, we waste a lot--ever heat up your shower water before stepping into it, for instance?), here's a way out -- get water out of the ocean instead to solve the same problem!
Good idea or not?
Graphene sheets are one atom thick; this practical use of knowledge of the atom makes this a good info text article for 8th Science.
S.08.PS.03a Demonstrate an understanding of how the structure of an atom is related to chemical reactions.