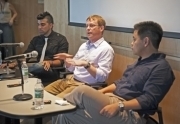 Several AeroAstro alumni return to campus to describe landing the Curiosity rover on Mars.
Kids may wonder if studying the solar system is relevant to careers; it's a small field, but here is an article describing some people who've worked for 10 years to send a probe to Mars and the outcome of their work.
Pair with other articles related to the Mars Curiosity rover.
S.07.PS.013a Understand the motion and characteristics of objects in the solar system.