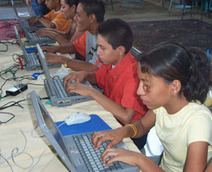 WorldPossible...
The RACHEL Initiative
Remote Areas Community Hotspots for Education and Learning
Leverage the large volume of open and free educational courseware and libraries available online and make them accessible to Emerging Countries communities with no internet access or very limited bandwidth.
Empower these small communities by deploying a pre-packaged, self-contained, scalable and highly mobile Educational Servers Solution that can be accessed by basic wireless laptops (OLPC type) or wired PCs.