Scoop.it!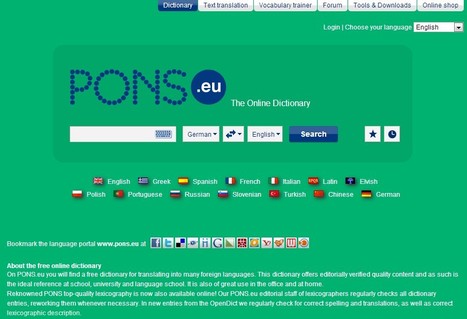 PONS.eu - Online dictionary for the languages: German-English, English-German, English-French, French-English, English-Spanish, Spanish-English, English-Polish, Polish-English, English-Russian, Russian-English, English-Italian, Italian-English...
Gust MEES's insight:
About the free online dictionary
On PONS.eu you will find a free dictionary for translating into many foreign languages. This dictionary offers editorially verified quality content and as such is the ideal reference at school, university and language school. It is also of great use in the office and at home.

Reknowned PONS top-quality lexicography is now also available online! Our PONS.eu editorial staff of lexicographers regularly checks all dictionary entries, reworking them whenever necessary. In new entries from the OpenDict we regularly check for correct spelling and translations, as well as correct lexicographic description.
The PONS online-dictionary offers you this content in the following languages and language-combinations:

German Spelling Dictionary, English-German, English-French, English-Spanish, English-Polish, English-Russian, English-Italian, English-Portuguese,English-Slovenian, German-English, German-French, German-Greek, German-Italian, German-Polish, German-Portuguese, German-Russian, German-Slovenian, German-Spanish, German-Turkish, French-German, French-English, French-Polish, Greek-German, Italian-German, Italian-Polish, Polish-German, Polish-English, Polish-French, Polish-Italian, Polish-Russian, Polish-Spanish, Portuguese-German, Russian-German, Russian-Polish,Slovenian-German, Slovenian-English, Spanish-German, Spanish-English, Spanish-Polish, Turkish-German and Latin-German - all in all 12 different languages and well over 10 million words and phrases at your fingertips!
In addition, you will find on PONS.EU an automatic text translation tool, a picture dictionary, the PONS language calendar, a translation forum and, last but not least, a vocabulary trainer.
Practise the words that you have looked up in our dictionary with our vocabulary trainer, which implements different learning modes to guarantee long-term success. You can enhance your vocabulary trainer with specially compiled PONS vocabulary packages.

In addition to our PONS editorial staff our Online Community also helps you to continually expand your vocabulary. Participate in our language forum to address your doubts and questions, to receive help and answers from PONS Community members, and to contribute answers to the questions of other users.