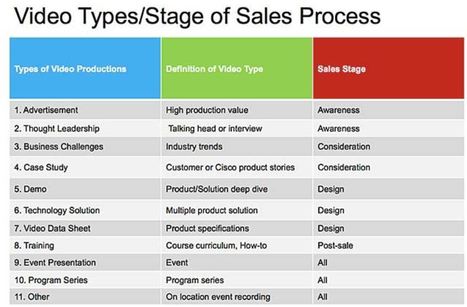 B2B Video Marketing; A primer on online video best practices; from planning to implementation to promotion.
Implementation excerpt...
-- > Preparation of script and storyboard: Strong introduction, set up business challenge, showcase solution, call-to-action
-- > Distribution strategy: website for engagement; landing page for conversion; YouTube channel; Vimeo and video syndication, Brightcove, email. A multi-media strategy works best.
-- > Analytics, hosting, and feature add-ons: Viewbix, Wistia, to name two I like.
-- > SEO: title tags with keywords; meta description, video site map, thumbnail image, links, sharable with social links. Regarding YouTube descriptions:Promotion: Give viewers key benefits for viewing;
-- > Optimize sharing due to message tone (interesting, humorous, surprising, unusual…a hook). However you deploy, mention "video" in your promotion to increase action
0- Write a creative and informative description about your video.
0- Your primary keywords should be near the beginning as only 25-30 characters are visible in YouTube search results. Include a link to your website, blog, and any other social channels.
0- Put the URL at the beginning of your description so that the user will see the link at all times.
-- > Conversion Optimization: Strong call-to-action (leads, downloads, next steps). Make sure offer and URL is included with all videos.
-- > Measure: Event tracking with Google Analytics; YouTube analytics, Tagged links on channels of distribution, click rates, video views, social media shares and comments, Leads generated, ROI reporting
___________________________________
-Receive a FREE daily summary of The Marketing Technology Alert directly to your inbox. To subscribe, please go to http://ineomarketing.com/About_The_MAR_Sub.html (your privacy is protected).
-If you like this scoop from The Marketing Technology Alert (brought to you by iNeoMarketing), PLEASE share by using the links below.
Via
iNeoMarketing