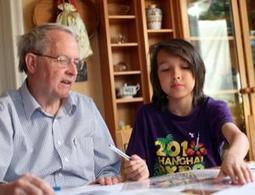 First he assisted his father with Sudoku, then helped him crack a chemistry problem that had puzzled him for years.
You cracked a puzzle about the structure of strange crystals called approximants that had gone unsolved for eight years. Tell us more.

Sven: Approximants are related to quasicrystals, which are ordered atomic structures but with symmetries that were believed to be impossible – for example, 5-fold symmetry. The approximants we studied have 5-fold and 10-fold symmetry.
Read more:
http://www.newscientist.com/article/dn21900-10yearold-solves-science-riddle-and-coauthors-paper.html