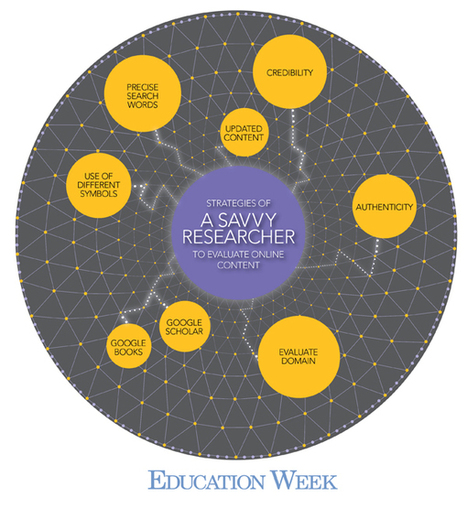 Sara Shaw, an elementary school teacher in Avon, Mass., realized she needed to teach online research skills several years ago when her students kept turning in projects riddled with misinformation. The flawed material often came from websites the students used. They took the information as fact, when it often was just someone's personal opinion.
Ms. Shaw thinks teaching online research skills is even more critical than it was just a few years ago. More than ever, information is literally at the fingertips of students through smartphones, tablet computers, and other digital devices.
"They will go on Google and type a word, and that is the extent of their research skills," said Ms. Shaw, who taught 5th grade for 10 years and now teaches special education at Ralph D. Butler Elementary School. "There is so much more to doing research on the Internet."
She is one of many teachers and librarians who are explicitly teaching online research skills, such as how to evaluate a website's credibility, how to use precise keywords, and how to better mine search engines and databases.
In November 2012, the Pew Research Center's Internet & American Life Project released a study that surveyed 2,067 Advanced Placement and National Writing Project teachers. It found that while most teachers agreed that the Internet provides a wealth of information to students, they also said students often don't have the digital-literacy skills to wade through that information. Forty-seven percent of the teachers surveyed said they "strongly agree" and another 44 percent said they "somewhat believe" that courses and content focusing on digital literacy should be incorporated into the school curriculum.
Click headline to read more--
Via
Chuck Sherwood, Senior Associate, TeleDimensions, Inc