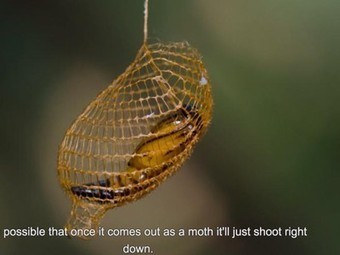 Have you ever seen a cocoon quite like this?! Looking more like a net, or open-weave basket, this cocoon has an interesting reason for its surprising structure.
This is the cocoon of the Urodid Moth, and it is entirely unlike other cocoons you're probably used to seeing. The pupa is housed within what looks like something that came off a 3D Printer. Just another example of how we're lagging behind the art already found in nature!
But why does this species prefer a cocoon that seems so, well, vulnerable? Destin from Smarter Every Day talked to a butterfly farmer to find out why the strategy of building a net, rather than a shell, works for this type of moth.