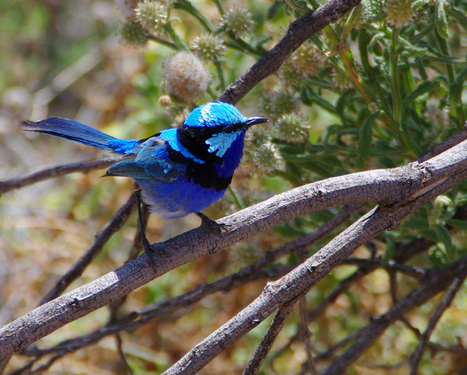 Why are some animals blue and others red?
Birds have one of the most sophisticated visual systems among vertebrates.
In addition to the three different cone types of humans ("red", "green", "blue"), birds have a fourth cone sensitive to UV/violet light – and this effectively gives them an extra colour dimension.
Accordingly, bird colours that to humans look blue or violet often reflect strongly in the UV range.
But not all birds are equally proficient at perceiving UV.
Birds can be broadly separated in two major groups depending on their visual sensitivities: violet-sensitive (V-type) and UV-sensitive (U-type). While both can perceive UV, U-type birds have higher UV and blue sensitivity. Based on this variability, it has been predicted that U-type species should show more UV reflecting plumage.
This idea was recently supported by Swedish and US researchers on a group of Australasian birds, the fairy-wrens (family Maluridae).