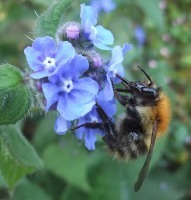 Brigit Strawbridge is a writer and environmental activist passionate about the plight of our bees. We had to share her latest blog post with you – what do trees have to do with bees?
Setting aside, for a moment, their importance as pollinators of food, medicine and textile crops for humans, I'd like to come back now to the fact that bees are 'keystone' species – playing absolutely crucial roles in sustaining many of the world's eco-systems.
If you remove a keystone species from any given eco-system, you risk at the very least a great reduction in the biodiversity of that community – and at worst it's complete collapse. Eco-systems are incredibly complex; each made up of numerous, diverse, dynamic, interconnected communities.
We cannot keep removing the building blocks that hold these systems together and expect them to survive.
By compromising the earth's eco-systems we compromise all life on Earth, including, ultimately, our own.