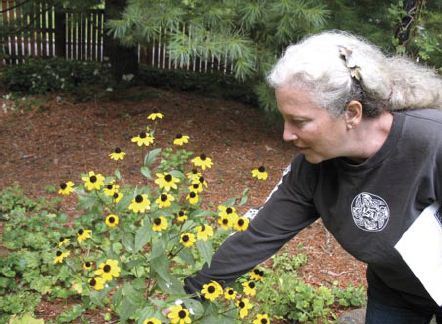 A visit to Carolyn Summers' native plant garden in the Catskill Mountains of New York is a reminder that we live on a planet that is paradise. ... Summers has been a pioneer in the use of native plants, garden design and natural landscape restoration for more than 20 years.
Regardless of where you live, every region and landscape has plants that are native, that are indigenous to it, that evolved in that same place. And because they evolved in a certain place and the wildlife evolved with them, they are all part of the same web of life. To introduce another plant from another region or continent – which we see a lot of – those plants can't interact with the ecosystem because they didn't evolve with, or have the co-dependencies, that native plants have.
What is an example of this natural co-dependency?
There is one particular butterfly, the Karner blue butterfly, Lyaeides melissa samuelsis, that is so picky it can only reproduce on eastern lupine. The eastern lupine is rare along with the butterfly itself, because people on the East Coast planted the showier western lupine, Lupinus polyphylus, and the western lupine is quite a bit more aggressive. It begins to take over at the expense of the eastern lupine to the point where now Maine is covered with the exotic lupine and the butterfly and the plant are both locally extinct in the state of Maine.