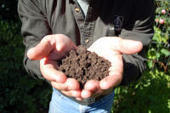 "DIFFERENT PLANTS PREFER different soils. So understanding what soil is best for a group of plants in a given area can help in determining how to make adjustments.
Three concepts that all gardeners should know about soil is succession, texture and structure. Understanding a bit about each, as well as the effects of salt and aeration, can get to the root of why some plants grow while others whither."
This is a bit tech-y but has some very useful information.