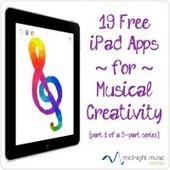 Part 1 in a series of 5 articles featuring Top Free iPad Music Apps For Teachers.
Really, there are so many apps available it can be hard to know where to begin and once you find something that looks useful, it's difficult to assess it properly until you've download and installed it on your iPad. iPad music apps that are free can take away the risk of choosing a dud and they can be useful when book-listing apps for students on a tight budget.
Over time, I've collected quite a number of free apps on my iPad. Generally speaking, paid apps are nearly always better – they are ad-free, there are fewer necessary in-app purchases to make the app functional, there are more features and they're better-supported (something that's often overlooked when deciding between free vs paid).
The following list of apps fall into the "creativity" category. This is the first post in a 5-part series – there were simply too many to list in a single post!. The five parts are as follows:
Part 1 – 19 Free iPad Apps for Musical Creativity: Play, Improvise and RecordPart 2 – 16 Free iPad Apps To Play and Learn Musical InstrumentsPart 3 – 9 Free iPad Apps To Help You Discover Orchestral Music and Explore SoundPart 4 – 8 Free iPad Apps for Ear-Training and LiteracyPart 5 – 10 Free iPad Music Tool Apps